We rolled out a new recycling service across the city last year, giving everyone the opportunity to contribute to a cleaner, more beautiful, more sustainable Lower Hutt that's too good to waste.
You are playing your part – we are recycling more than ever. However, it's not just recycling that's important, we need to make sure we're putting the right items into our recycling bin.
Too much rubbish is going into recycling bins which means that sometimes whole truckloads of recycling must go to landfill. When contaminated recycling is dumped in landfill, it costs all of us financially and environmentally - we want to extend the life of our landfill for as long as possible.
To help lower our contamination rates, we are introducing a new process across the city. Our bin ambassadors are here to help you understand what can and can't be recycled. You may receive the following stickers on your bin and/or crate: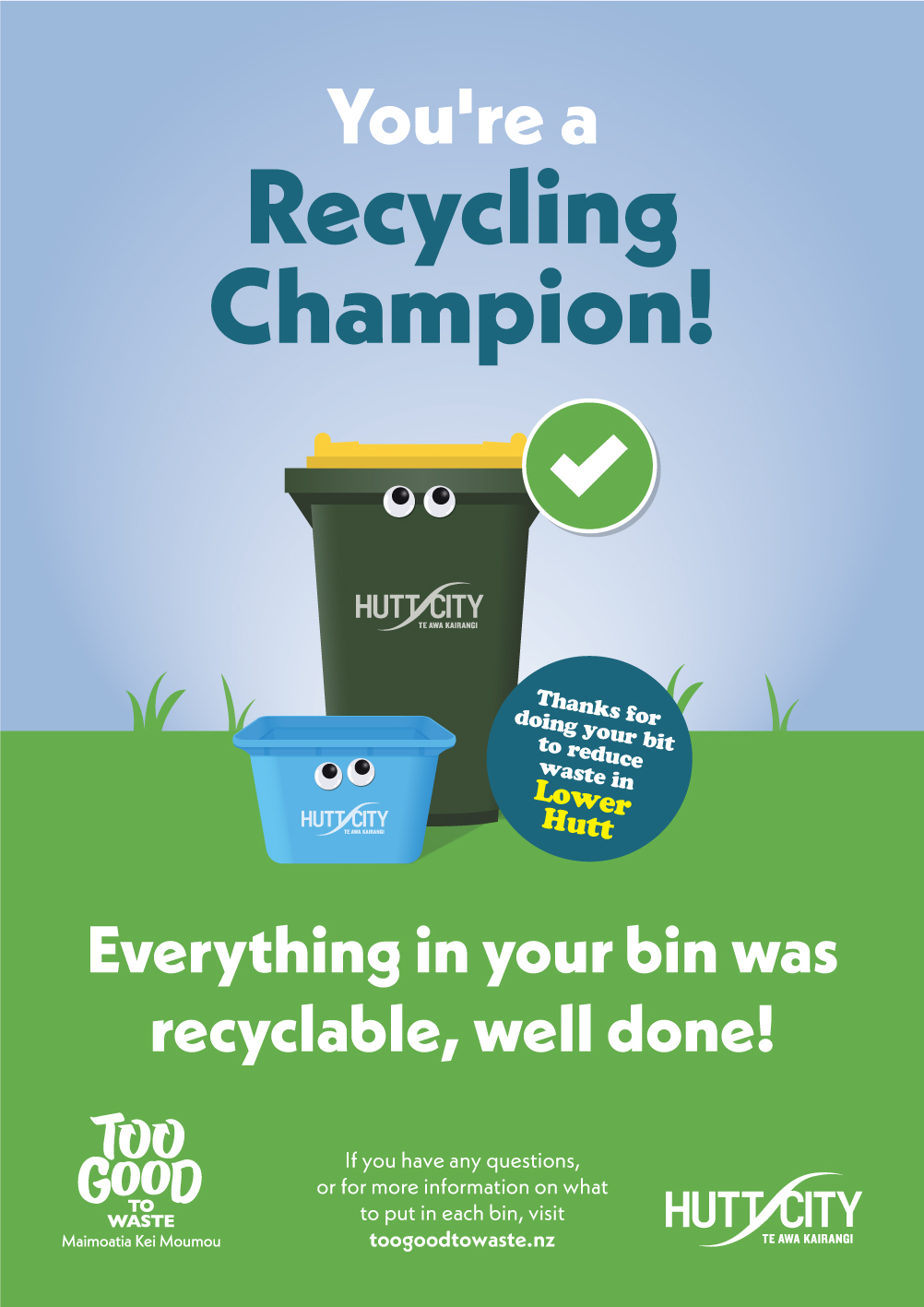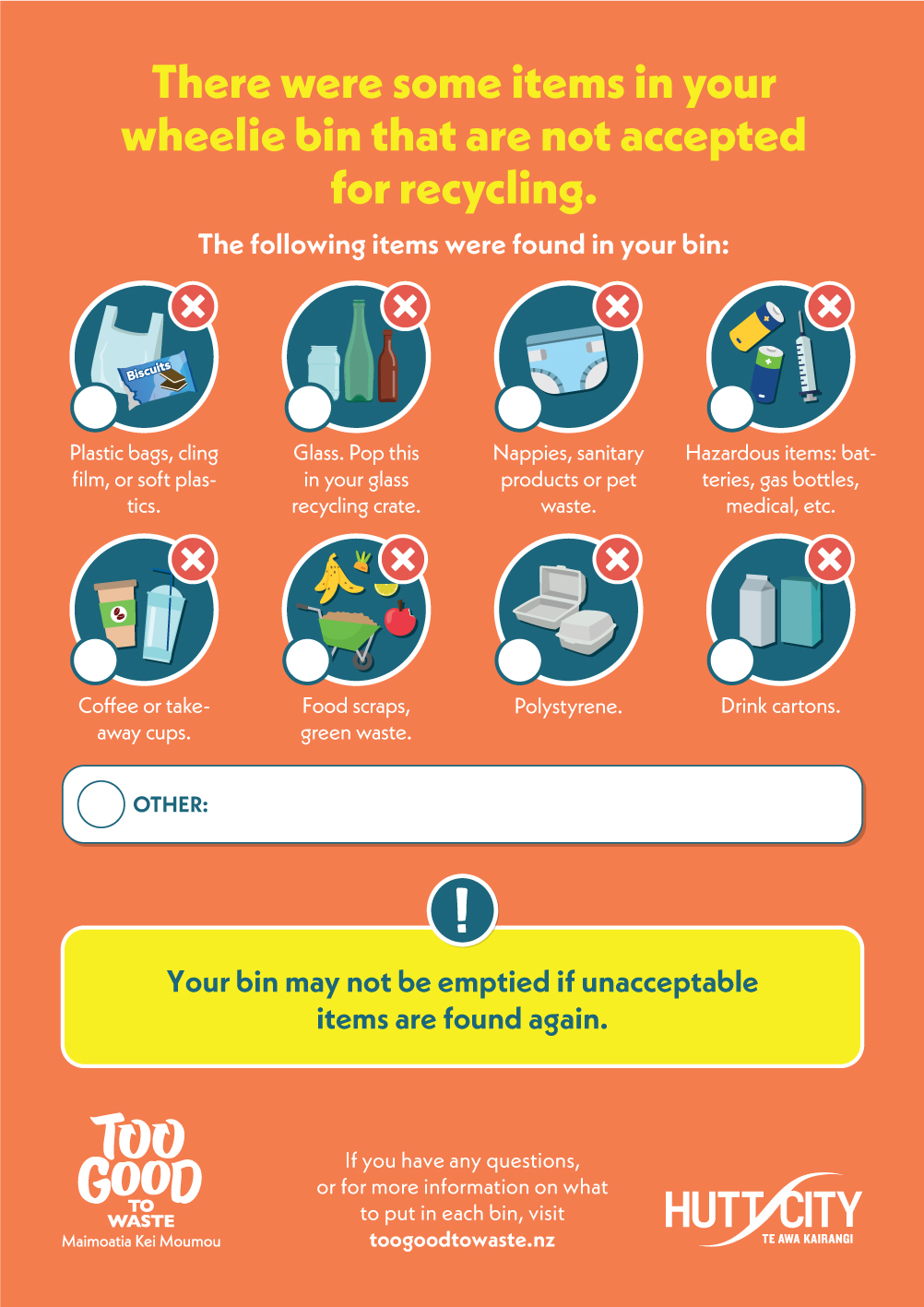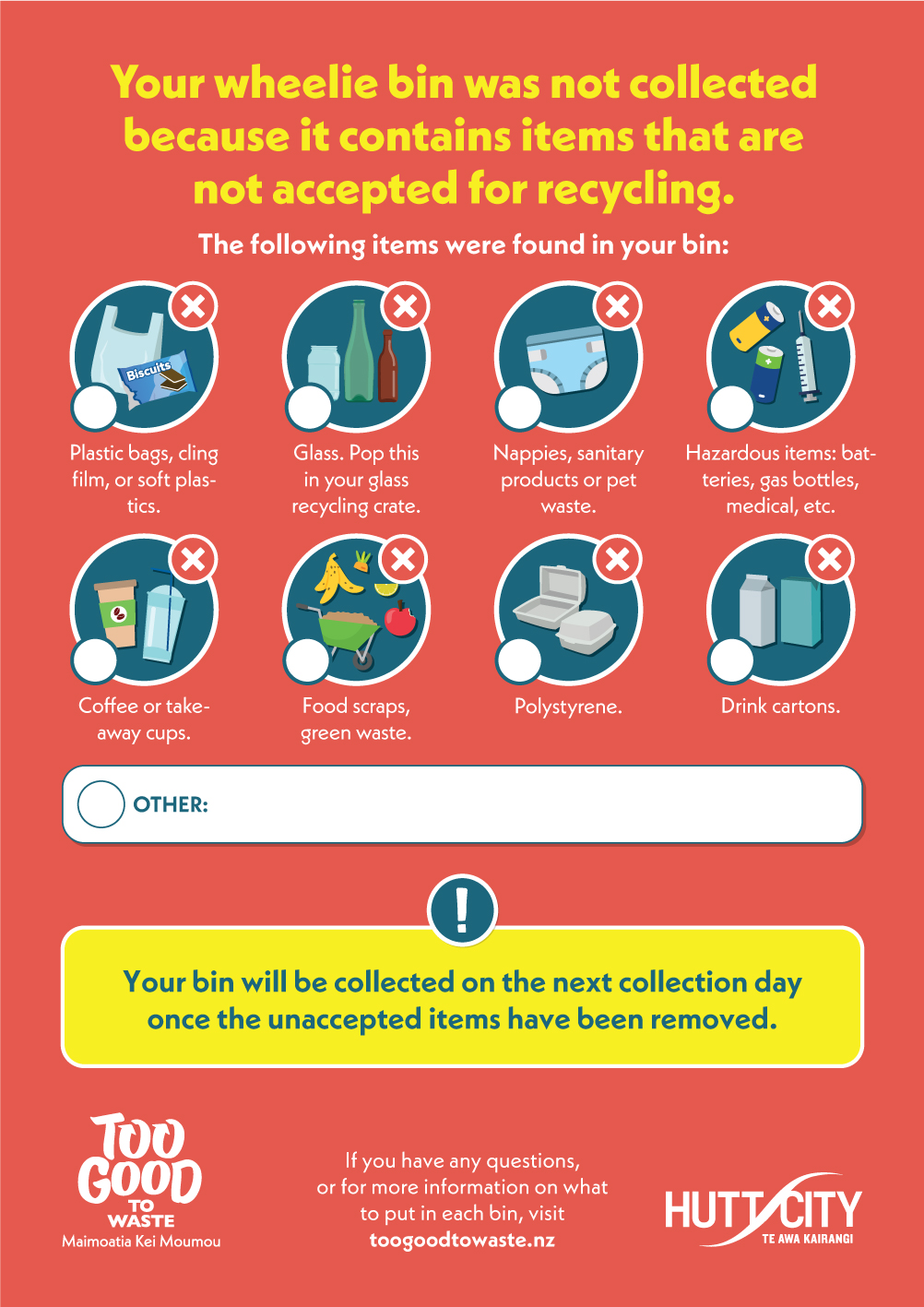 Each sticker helps you understand changes that need to be made when recycling.
Please Note: Some residents may have already received a paper tag on their bin or a sticker on their crate due to contamination found in their bins. We adopted this informative approach after the bin roll-out in June 2021.
Rubbish and Recycling Booklet
These rubbish and recycling booklets are available in 6 different languages and contain information on what items can and cannot go in each bin, how to put your bins out and how to dispose of items that are not accepted for recycling.
Reducing recycling contamination FAQs
We've introduced a sticker system so you know if there are items in your recycling bin or glass crate that shouldn't be there.
The green means that you're doing a great job – keep going!
Orange means we found one or two unaccepted items in your bin, but the bin will still be collected.
We'll give you a red sticker if we find more than two unaccepted items or one substantial, dangerous or offensive unaccepted item in your bin and your bin will not be collected.
The orange and red stickers will show you which unaccepted items we found – this could include food or the wrong types of plastic.
On your next collection day, our bin ambassadors will check your bin again and if all unaccepted items have been removed and there is no further contamination, they will place a green sticker on your bin, and it will be collected as normal.
Please store your recycling until the next collection. We will not return to empty your bin if contamination is removed the same day you received the sticker. If you want to dispose of your recycling before your next collection, you can take it to the Seaview Transfer Station.